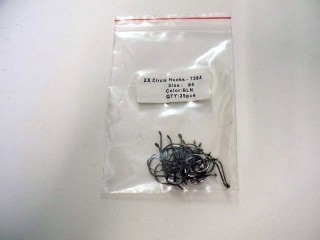 Product Details
FishAndSave
Custom Offshore Circle Hooks Sz 4 Qty 25
25 Circle Hooks in black chrome and offsett Gypsy Lure brand. If you fish Owner,Gamakatsu,and other high dollar hooks you must try these once and youll be hooked for life. The quality of these hooks are the same if not better then those brands.
These hooks are made of Hi-Carbon steel and dont rust like must hooks. Dont pay crazy money for hooks,Once you try these youll be hooked! 7384BN Hooks Better Hooks Better Pricing!!
Immacculate quality hooks.
Lazer sharp
Brand: FishAndSave
Product Category: Hooks
Condition: New
We try our best to ship each order within 24 business hours. Many orders ship the same day they are placed. Your satisfcation is our main priority. All orders are guaranteed to meet your satisfaction or we will refund the cost to you.

Your Satisfaction is our #1 Goal - Shop with Confidence!