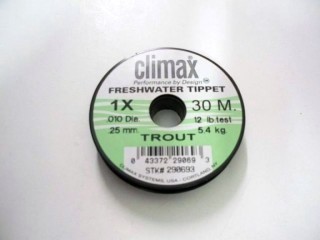 Product Details
Climax
Freshwater Tippet Trout 1X 12lb 30 Meters
True Diameter. Great diameter-to-strength ratio. High knot strength, high-abrasion-resistant material matches Climax Leaders. Available in 30-meter spools.
Brand: Climax
Product Category: Line
Condition: New
SKU: 152324
UPC: 043372290693
EAN: 0043372290693
ASIN: B003OB64ZM
CLIMAX TIPPET 12LB 1X
We try our best to ship each order within 24 business hours. Many orders ship the same day they are placed. Your satisfcation is our main priority. All orders are guaranteed to meet your satisfaction or we will refund the cost to you.

Your Satisfaction is our #1 Goal - Shop with Confidence!