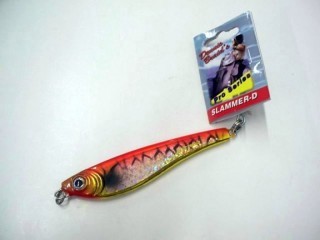 Product Details
Braid
Slammer-D #37 4.5 Oz Gold/Mackerel
Take your jig fishing to an all new level with Braid's Slammer jigs designed and tested world-wide by Dennis Braid, Slammer Jigs are built to beat any gamefish anywhere in the world.

Brand: Braid
Product Category: Saltwater Gear
Condition: New
SKU: 153163
UPC: 026362783375
EAN: 0026362783375

We try our best to ship each order within 24 business hours. Many orders ship the same day they are placed. Your satisfcation is our main priority. All orders are guaranteed to meet your satisfaction or we will refund the cost to you.

Your Satisfaction is our #1 Goal - Shop with Confidence!