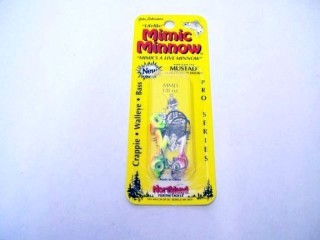 Product Details
Northland
Mimic Minnow Jig MMJ3-99 1/8 Oz Qty 3
The MIMIC MINNOW JIG is the most lifelike and productive minnow jig in the country! Lifelike holographic 3D molded eyes, and a Barb-Wire bait-holding worm and grub collar make it the clear choice for anglers nationwide.
Brand: Northland
Product Category: Crankbait
Condition: New
SKU: 154086
UPC: 084948637726
EAN: 0084948637726

We try our best to ship each order within 24 business hours. Many orders ship the same day they are placed. Your satisfcation is our main priority. All orders are guaranteed to meet your satisfaction or we will refund the cost to you.

Your Satisfaction is our #1 Goal - Shop with Confidence!