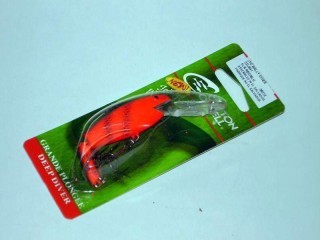 Product Details
Cotton Cordell
Jointed Wally Diver CDJ541 Flr Red/ Black
Cotton Cordell's most popular walleye lure, the Wally Diver, has added kick to its step with the introduction of the Jointed Wally Diver. Like the original, the 2 3/4, 1/4-oz Jointed Wally Diver gets down in a hurry and has a tight wiggling action. However, the jointed body adds motion and suggests a crippled baitfish, which triggers strikes even when fish are unwilling to commit to other lures. The Jointed Wally Diver can be cast or trolled effectively, and anglers should not overlook its undeniable appeal to largemouth and smallmouth bass and other gamefish in addition to the walleyes.
Brand: Cotton Cordell
Product Category: Crankbait
Condition: New
SKU: 68387
UPC: 020495034342
EAN: 0020495034342

We try our best to ship each order within 24 business hours. Many orders ship the same day they are placed. Your satisfcation is our main priority. All orders are guaranteed to meet your satisfaction or we will refund the cost to you.

Your Satisfaction is our #1 Goal - Shop with Confidence!