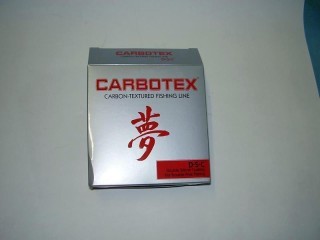 Product Details
Carbotex
Carbon-Textured 12lb 330yds Silver
Double Silicone Coating (DSC) for trouble-free fishing. Keeps its tensile & knot strength when exposed to water. Strength & low memory for excellent casting. Suitable for salt & freshwater.
Carbon-Textured Fishing Line: The polyamide copolymer with CARBON-TEXTURE technology eventuate prominently stable & strong molecular bonds. These bonds give the line ultra tensile strength & superior knot strength. Remarkable UV-stability. The advanced quality controlled manufacturing & the newly developed Japanese raw material along with German engineered additives provides a very special fishing line.
DSC-Double Silicon Coating: The DSC technology revolutionary changed all the parameters of the fishing line. All monofilament absorb water during fishing. This fact can reduce the line's strength up to 50% of its original strength. The special DSC technology provides a hard stable thin treatment on the surface of the line. This treatment protects the line from absorbing water. The Carbotex DSC line that keeps its tensile & knot strength when exposed to water. The surface treatment increases abrasion resistance & the life of the line.
WARNING: Because of the high tensile strength & high abrasion resistance we strongly recommend using tools to cut the line. This will avoid teeth & hand injury.
Brand: Carbotex
Product Category: Line
Condition: New
SKU: 143834
UPC: 998159570855
EAN: 5998159570855

We try our best to ship each order within 24 business hours. Many orders ship the same day they are placed. Your satisfcation is our main priority. All orders are guaranteed to meet your satisfaction or we will refund the cost to you.

Your Satisfaction is our #1 Goal - Shop with Confidence!