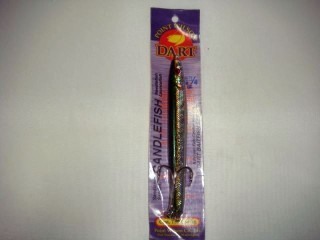 Product Details
Point Wilson
Dart Candlefish C47 GR/N 4.75 Oz Green/Nickel
Made in USA. The DART Baitfish Series is designed to imitate the natural forage sought by the world's gamefish. These lures can be used effectively to jig, troll or cast. The DART's accurate detail, its durable finish & its bendability make it one of the world's most versatile fish producers.
Brand: Point Wilson
Product Category: Jigs
Condition: New
SKU: 145508
UPC: 040528000816
EAN: 0040528000816

We try our best to ship each order within 24 business hours. Many orders ship the same day they are placed. Your satisfcation is our main priority. All orders are guaranteed to meet your satisfaction or we will refund the cost to you.

Your Satisfaction is our #1 Goal - Shop with Confidence!