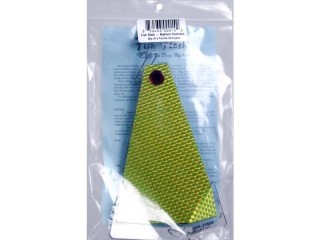 Product Details
Big Al's
Fish Flash No Drag Flasher Medium 2.3 Oz 10" Chart
Revolutionary approach to catch fish. Rotating body & fins flash & vibrate in all directions to call in the big ones. Works at all speeds without noticeable drag; killer for motor mooching. Deadly for all troll caught gamefish: Kings, Coho, Pinks, Lake Trout, Kokanee, Walleye, Yellow Fin, Stripers, Mackerel, etc. Use as a conventional dodger or attach directly to mooching sinker, diver or spreader to shorten hook-up & eliminate two line knots. Made in the USA of the latest space age materials.
Brand: Big Al's
Product Category: Trolling
Condition: New / Bulk (The item is new but does not include the original packaging and/or paperwork.)
We try our best to ship each order within 24 business hours. Many orders ship the same day they are placed. Your satisfcation is our main priority. All orders are guaranteed to meet your satisfaction or we will refund the cost to you.

Your Satisfaction is our #1 Goal - Shop with Confidence!