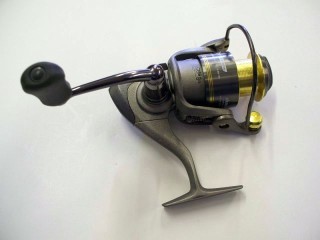 Product Details
Okuma
Epixor EF 30b
The Okuma® Epixor saltwater fishing reel showcases a 3-piece, machined aluminum spool construction with a tough titanium-coated stainless-steel spool lip and a waterproof drag seal. This reel incorporates a live bait feeding system that uses a lever to disengage the spool so the line runs freely, while a rear adjustment allows you to control the tension. The Quick Set anti-reverse system offers solid hook sets and minimal back play.
Features;
5:1 Ratio
Titanium-coated stainless-steel spool rim
9 ball bearings plus a 1-way clutch bearing
EDS extra drag system
Quick Set anti-reverse system
Soft and comfortable hand knob
6/200 8/160 10/110 lb/yds
Brand: Okuma
Product Category: Spinning Reels
Condition: New / Bulk (The item is new but does not include the original packaging and/or paperwork.)
We try our best to ship each order within 24 business hours. Many orders ship the same day they are placed. Your satisfcation is our main priority. All orders are guaranteed to meet your satisfaction or we will refund the cost to you.

Your Satisfaction is our #1 Goal - Shop with Confidence!