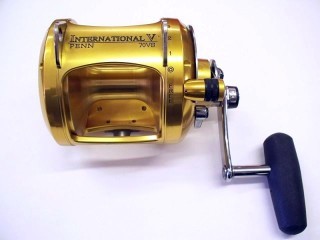 Product Details
Penn
International 70VS
The flagship of the Penn International® Lever Drag family of reels, the International® V-Series raises the gold standard for offshore anglers. The International® V reels offer the most advanced and reliable fish-fighting performance in the world, with an ergonomically designed, contoured, one-piece machined frame, and unbelievable cranking power and strength. Distinctive pure gold color separates Penn from the impostors.
Line Capacity: 1000/50-600/80 lb/yds
Gear Ratio: 3.1:1/1.4:1
Weight: 89 Oz/2525 Grams
• Machine-Cut, Heat-Treated Stainless Steel Main and Pinion Gears, and Drag Cam
• Powerful Double-Disc Drag with 150-Degree Drag Quadrant
• Graduated Push-to-Turn Preset
• One-Touch Shifting
• Four Aircraft-Grade, Sealed, Stainless Steel Ball Bearings
• Machined, Gold Anodized One-Piece Frame
• Forged & Machined Spool and Side Plates
This Reel Shows Very Limited Sign Of Use.
**(This is only the reel; nothing else)**
Brand: Penn
Product Category: Trolling Reels
Condition: New
We try our best to ship each order within 24 business hours. Many orders ship the same day they are placed. Your satisfcation is our main priority. All orders are guaranteed to meet your satisfaction or we will refund the cost to you.

Your Satisfaction is our #1 Goal - Shop with Confidence!