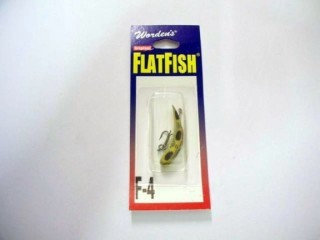 Product Details
Worden's
Flatfish FF.952.FR.BX F-4 Frog
Designed to produce action at slow trolling or reeling speeds. The Flatfish is very productive for all kinds of gamefish in streams or lakes. For best results tie the Flatfish directly to your line or attach with a very small snap. Do not use a swivel. To help Flatfish get down to the desired fishing depth add weight to monofilament line, use with leaded line or fish off of a downrigger & troll very slowly.
Brand: Worden's
Product Category: Crankbait
Condition: New
SKU: 154784
UPC: 052237040915
EAN: 0052237040915

We try our best to ship each order within 24 business hours. Many orders ship the same day they are placed. Your satisfcation is our main priority. All orders are guaranteed to meet your satisfaction or we will refund the cost to you.

Your Satisfaction is our #1 Goal - Shop with Confidence!