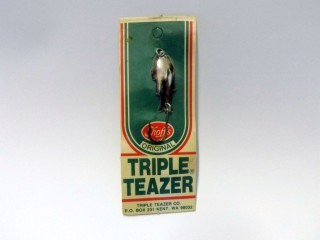 Product Details
Worden's
Triple Teazer 960 S 1-1/2" Silver
Over the years, the Worden's Triple Teazer has proven exceptionally deadly on trout, kokanee, salmon and other game fish. Its thin body style is perfectly suited for trolling. Truly one of the most consistently productive lures ever designed.
We try our best to ship each order within 24 business hours. Many orders ship the same day they are placed. Your satisfcation is our main priority. All orders are guaranteed to meet your satisfaction or we will refund the cost to you.

Your Satisfaction is our #1 Goal - Shop with Confidence!