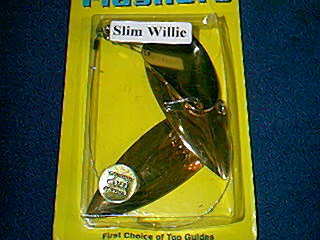 Vance's Flashers Slim Willie Gold

Item #
34052
Brand
Vance's
Condition
New
Items in Stock

Sold Out

Retail

Special Holiday Savings!

$11.49
Our Price

(Save over 56%)

$5.10
Product Details
Vance's
Flashers Slim Willie Gold
These attractive flashers are designed to produce large flash in ultra-light rod conditions. The large willow leaf blades produce large flash with minimal drag. This allows the angler to use light to even ultra-light rod combinations.
Brand: Vance's
Product Category: Trolling
Condition: New
SKU: 34052
UPC: 603416500029
EAN: 0603416500029

We try our best to ship each order within 24 business hours. Many orders ship the same day they are placed. Your satisfcation is our main priority. All orders are guaranteed to meet your satisfaction or we will refund the cost to you.

Your Satisfaction is our #1 Goal - Shop with Confidence!