Browning The Predator Float Tube (Demo)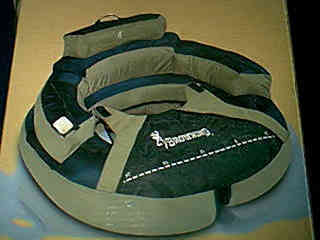 Browning The Predator Float Tube (Demo)
Item #

40750
Category

Misc. Accessories
Condition

New
Items in Stock

Sold Out*
Retail

$199.99

Memorial Day Savings!
Our Price

$61.67

(Save over 69%)
Product Details
Browning
The Predator Float Tube (Demo)
Patented Split Front-Entry System
24" Internal Diameter
300lb Weight Capacity
3 Extra-Large Storage Pockets
420 Denier Nylon Coated Fabric
Triple-Stitched Tube Seams
Lightweight RF Welded Bladder Tube
13 D-Rings For All Your Accessory Needs
Cooler/Camera Pocket
Hidden Retractor Pocket
Horizontal Rod Holders
Removable Mesh Arpron With Fish Ruler
Mesh Tippet Pocket
Carrying Suspenders
Dry Fly Patch
Fluorescent Back Panel For Added Safety
Safety Flag Holder
Inflatable Backrest Bladder Adds Back Support & Extra Safety

Brand: Browning
Product Category: Misc. Accessories
Condition: New
SKU: 40750
UPC: 032784529866
EAN: 0032784529866


*Please note that this item is currently unavailable. We generally sell closeout items and often do not know when or what we may be getting next. Since we have not had this item in over 8 months there is a good chance that it has been discontinued by the manufacturer. If you would like us to notify you if and when we get any more in stock, click the "Notify Me" button above. You never know as we get new inventory every day!