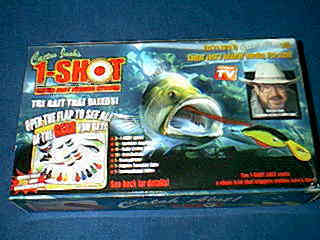 Cactus Jack's 1-Shot Catch Alot Fishing System **Makes Over 288 Lure Combinations**

Item #
41267
Brand
Cactus Jack's
Condition
New
Items in Stock

Sold Out

Retail

Special Holiday Savings!

$59.99
Our Price

(Save over 94%)

$3.85
Product Details
Cactus Jack's
1-Shot Catch Alot Fishing System **Makes Over 288 Lure Combinations**
*As Seen On TV*
Compare @ $59.99
The 1-Shot Lure Emits A Chum Trail That Trigger Strikes Every Time!!
Contains
2-1-Shot Lures
12-Variable Depth Bills
12-Belly Cavity Doors
25 Bait Bullets
1-Screwdriver
1-Plactic Carrying Case
1-Instructional Video
**Makes Over 288 Lure Combinations**
Brand: Cactus Jack's
Product Category: Bass Fishing Gear
Condition: New
SKU: 41267
UPC: 697043291207
EAN: 0697043291207

We try our best to ship each order within 24 business hours. Many orders ship the same day they are placed. Your satisfcation is our main priority. All orders are guaranteed to meet your satisfaction or we will refund the cost to you.

Your Satisfaction is our #1 Goal - Shop with Confidence!