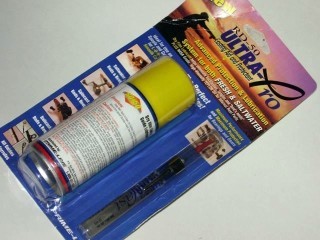 Product Details
Prime-Line
RD-50 Ultra-Pro Casting Aid and Protectant Dry Film Lubricant/Teflon Oil
This dual component product is designed specifically for the sport fisherman. When used together, the casting capabilities of any rod and reel are greatly enhanced. Ultra-pro Dry Fil lubricant can help eliminate line tangles, backlashes and "bird's nests" by coating the line with micro scopic ball-bearings, allowing the line to flow through guides with ease.
Brand: Prime-Line
Product Category: Misc. Accessories
Condition: New
SKU: 63034
UPC: 900000063034
EAN: 0900000063034

We try our best to ship each order within 24 business hours. Many orders ship the same day they are placed. Your satisfcation is our main priority. All orders are guaranteed to meet your satisfaction or we will refund the cost to you.

Your Satisfaction is our #1 Goal - Shop with Confidence!