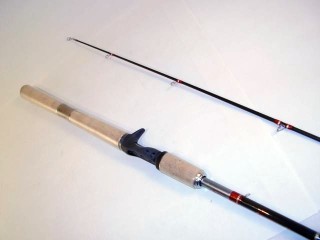 Product Details
Berkley
LIGHTNING ROD LRC661M Med 6'6" 1 Pc. **2 Rods**
Trigger
8-20 lb
1/4-3/4 Oz.
Qty 2 Rods
Still the lightest, fastest, most powerful rod in its class. High modulus IM-6 graphite blanks offer a level of sensitivity seldom found in this price range, supported by a unique fast-flex "lightning" tip that's incredibly strong and resilient. And the Hard Chromium SS304 guides run up to 20 times tougher and 55% lighter than aluminum oxide guides! Graphite reel seats with cork grips. These rods have 7 guides which includes tip.

Brand: Berkley
Product Category: Casting Rods
Condition: New
SKU: 64143
UPC: 100286321804
EAN: 0100286321804

We try our best to ship each order within 24 business hours. Many orders ship the same day they are placed. Your satisfcation is our main priority. All orders are guaranteed to meet your satisfaction or we will refund the cost to you.

Your Satisfaction is our #1 Goal - Shop with Confidence!