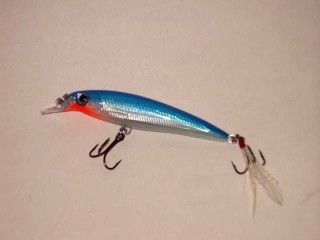 Product Details
Rapala
X-Rap XR-8 (XR08 SB) Silver Blue 3-1/8" 1/4oz. 3'-5' Swimming Depth
The new X-Rap represents the evolution of the classic Rapala. The X-Rap is the "dream lure" of the 21st century. It's where technical innovation meets Rapala fishing smarts to create a lure like nothing that's hit the water before.The adrenaline pumping X-Rap slashbait has Xtreme attitude with its hard cutting, aggressive darting action. The integrated long casting system partners with an irresistible rattle and classic Rapala action. It suspends and comes to a roll at rest to trigger the bite.
Brand: Rapala
Product Category: Crankbait
Condition: New
SKU: 65786
UPC: 022677135656
EAN: 0022677135656

We try our best to ship each order within 24 business hours. Many orders ship the same day they are placed. Your satisfcation is our main priority. All orders are guaranteed to meet your satisfaction or we will refund the cost to you.

Your Satisfaction is our #1 Goal - Shop with Confidence!