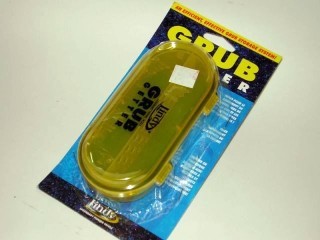 Product Details
Lindy
Grub Getter
Great for storing maggots, wax worms & other grub type bait! Sort bait from sawdust bedding quickly. Soft plastic box features flip-up hinges & easy open secure latches. Spend more time fishing instead of pawing through sawdust for maggots, waxies, or other grub-type baits! Sift 'em out quickly & grab 'em more easily with Lindy's new pocket sized Grub Getter bait box. Shake the Grub Getter & sawdust falls through the holes in a divider, separating bait for instant access! Less "handling" means livelier bait, too!
Brand: Lindy
Product Category: Bait / Attractant
Condition: New
SKU: 66291
UPC: 093718313975
EAN: 0093718313975

We try our best to ship each order within 24 business hours. Many orders ship the same day they are placed. Your satisfcation is our main priority. All orders are guaranteed to meet your satisfaction or we will refund the cost to you.

Your Satisfaction is our #1 Goal - Shop with Confidence!