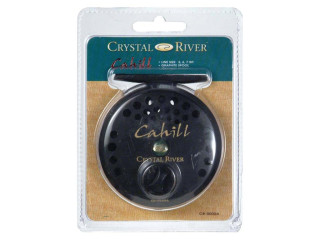 Product Details
Crystal River
Cahill Rim Fly Reel CR-0002A #5/6/7 (In Clamp Pack)
• Accurate Drage System
• Lighweight Graphite Body
• Lightweight Graphite Frame
• Spool Diameter: 2 3/4" Spool Width: 3/4" Reel Weight: 3 oz.
• Fly Line: 5, 6, 7 Backing: 80 yd. / 20 lb.

The Crystal River Cahill Rim Fly Reel is an excellent all-around fly reel for trout and salmon. Features accurate drag system, and lightweight graphite body and frame.
Brand: Crystal River
Product Category: Fly Reels
Condition: New
SKU: 68244
UPC: 039364570355
EAN: 0039364570355
ASIN: B000ZKR44A
South Bend Cahill Fly Reel 5 6 7
We try our best to ship each order within 24 business hours. Many orders ship the same day they are placed. Your satisfcation is our main priority. All orders are guaranteed to meet your satisfaction or we will refund the cost to you.

Your Satisfaction is our #1 Goal - Shop with Confidence!